Franchising veterans Brian and Jeff Pappas have teamed up with Chicago's award winning Beavers Coffee & Donuts co-founders Sammi Wiesen and James Nuccio, to launch an aggressive national and international single and multi-unit owner franchise program for hot mini donuts. Say hello to The Dapper Doughnut!

The Pappas brothers discovered Beavers Donuts last year while visiting Chicago. They were impressed with the delicious mini donuts at the Beavers' French Market location. Sammi and Jimmy had been operating their Beavers Coffee and Donuts business for three years in the French market.
Hot mini donuts are taking the food industry by storm wherever they're served and the gourmet dessert sector is booming. There is a growing demand for alternative dessert options and hot, fresh mini donuts is meeting that demand head on.
Our donuts are made with a proprietary recipe and cooked fresh right in front of you, which often entices a captivating audience. They're hot and delicious. The mere fact that the donuts are made fresh all day long differentiates us from just about any other franchised (or mom and pop) donut company in the market place.
The Dapper Doughnut targets high traffic locations such as casino hotels, sports arenas, high traffic malls and city locations, airports, etc. and just about anywhere with our food trucks, not to mention the nearly endless catering opportunities – weddings, corporate events, birthday celebrations, bar mitzvahs, bat mitzvahs, special events, etc. Catering companies love to work with us as they generally don't own a donut making machine, and we bring ours right to their event.
The Dapper Doughnut business model is like no other food and beverage franchise and with an experienced team of franchise professionals to support you all the way you're bound to be successful. The combination of donuts and coffee is literally the most profitable F&B combo on the planet. The food cost to make one donut is around $.03 and we sell them for $.30 - $1.00!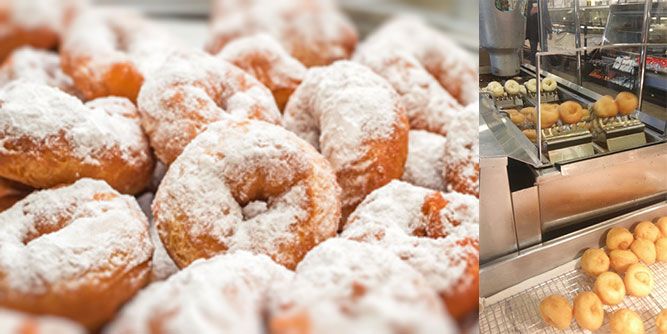 The Dapper Doughnut franchise:
· Can be operated in a very small footprint (200 – 300 sq. ft)

· Can be operated with a food truck

· Uses a portable donut machine

· Enjoys huge catering opportunities

· Is a simple F&B model – donuts and coffee

· Has very low food costs (around 10%)

· Offers 5 days of training at our Las Vegas training center and 2 days of on-site training at your store or food truck

· Does not require a large amount of capital (as compared to other food franchises)

· Ramps up quickly – even while your unit or food truck is being built, you can almost immediately start the business with catering jobs.

· Is not seasonal

· Limited competition – while there's lots of competition for the usual, regular sized donuts that are made in the morning and sit on the shelf all, there is very little competition for hot, fresh mini donuts… and ours taste so much better than theirs

· Has world-wide appeal – everyone loves donuts!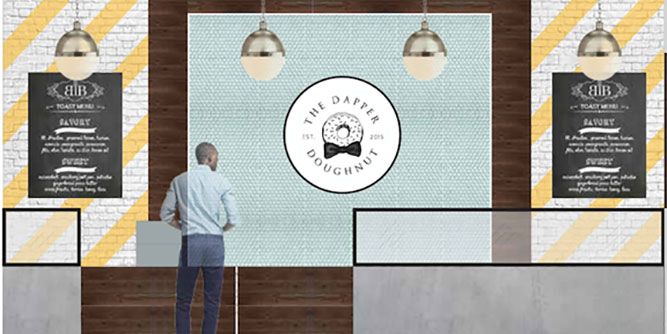 Our Staff
We have seasoned support staff including digital and traditional marketing staff with combined over 50 years experience in digital and traditional marketing. Our marketing staff will work directly with you to launch your new venture and will always be only a phone call away.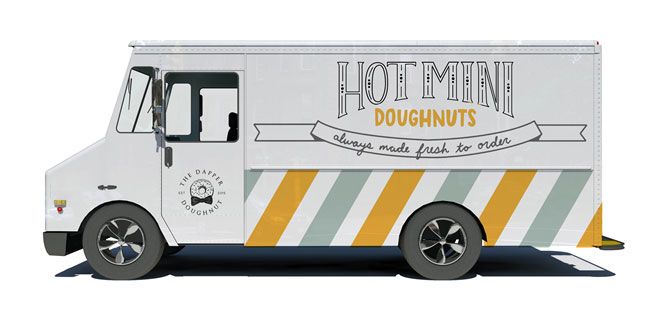 Who We Are Looking For
Are you looking for a full-time, "hands-on" business in the food industry? The Dapper Doughnut may be the perfect fit for you! We are currently seeking hard working entrepreneurial individuals who are interested in growing this business with us. We look for ambitious self-starters who are results oriented and have a proven track record in business leadership.
We are especially looking for qualified area franchise developers to help develop multi-unit franchises in major cities across the US. If you think you may be a good fit for this business and are interested in learning more about The Dapper Doughnut opportunity please submit your information to the right.