Starting a business is tough! We get it! But, we take the guesswork out of your startup and give you a clear roadmap to success. We are committed to providing you with the tools you need to become a successful Special Ops Franchise Team owner. We provide the expertise and support you need. And you will build a business that can generate lucrative, sustainable income and a company that can remain in your family for generations to come.
Start your own business
Starting your own business can be scary – but not if you have help. As a Special Ops Franchise Team member, you get all the benefits of owning your own business – because you do own the business – but also the training, support and resources of a company that has become an industry leader over the past 25 years. You'll provide the hard work, determination and drive and we'll give you a road map to success in a growing industry that offers you a chance to build a business for your family.
About Special Ops Clean Team
Founded in 2013, Special Ops Clean Team is a deep cleaning company servicing residential and commercial properties with specialized in-depth and expanded cleaning services for home sale listings, construction and remodel clean-ups, move-ins and move-outs, and special occasions. Special Ops is comprised of a team of licensed, insured, and bonded cleaning professionals.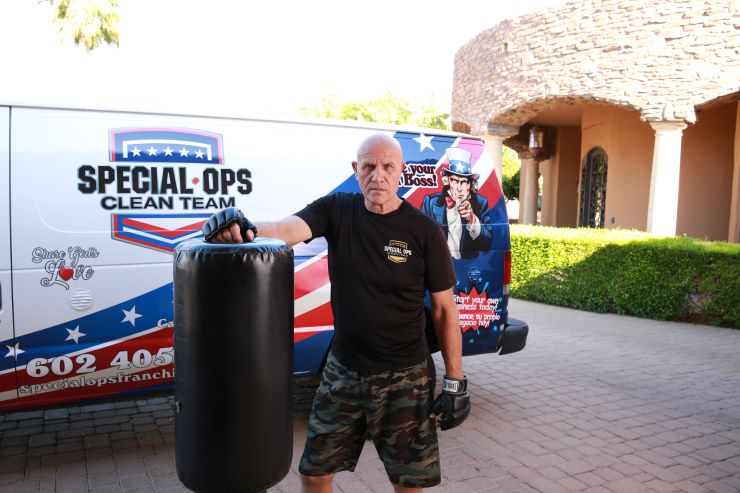 Franchise History
Special Ops Clean Team recently launched a new franchise program to expand its business model throughout Arizona. The family-owned company plans to launch in new markets across the Southwest by 2023. The company is seeking to work with individuals in Arizona who have dreamed of owning their own business but do not where or how to get started.
Special Ops Clean Team also proudly supports veterans both in the hiring process and in the franchise operation. The business model highlights the military ideals of discipline, hard work, and training as the pillars of the franchise operation and keys to success in the industry. The name comes from Lee's family and friends service in the military.