Pizza. Profitability. Fun.
Get in on the booming fast casual pizza market!
Smokin' Oak Wood-Fired Pizza is one of the originators of the fast casual wood-fired pizza concept. We have spent years crafting our dough recipe and menu and have worked diligently to develop cutting-edge methods and efficiencies that revolutionized operational procedures.
From our unique wood-fired oven and open-plan kitchen design to our industry-leading cost containment protocols and the way we "wow" our guests throughout the dining experience, we are confident you will find that Smokin' Oak Wood-Fired Pizza is different from any other franchise pizza concept!
We offer a "smokin'" franchise opportunity in a growing industry! The pizza industry generates $40 billion in annual sales. 93% of American eat pizza at least once a month, and 13% of Americans eat pizza daily. With a Smokin' Oak Wood-Fired Pizza franchise, you're set up for success!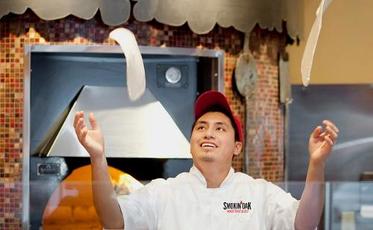 Why Should You Consider a Smokin' Oak Wood-Fired Pizza Franchise?
We are dedicated to being the best wood-fired pizza franchise in the industry. Our philosophy is simple — use the best restaurant methodology and efficiencies, combine them with traditional old-world baking methods, use fresh and quality ingredients, and team up with great Franchise Owners to provide our amazing wood-fired pizza to hungry pizza lovers across the country.
We are revolutionizing the pizza industry with unique restaurant branding, design and layout, leading operations and cost-containment protocols and fresh, artisanal ingredients that meet the demands of today's consumer.
Our Experienced Management Team
Our management team is comprised of restaurant operators and business professionals with a combined 105 years of experience, comprised of master pizza makers who have developed and perfected industry-leading operational protocols that encompass all aspects of front and back of house operations.
In addition to being industry leaders in restaurant operations, our seasoned management team has significant experience in the areas of human resources, employee and management development and training, product development, branding, marketing and financial services.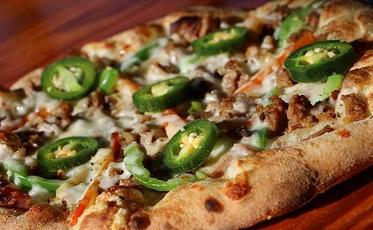 We Are Committed to Our Franchise Owners' Success
Franchisees receive comprehensive assistance and the full benefit of our experienced management team. Key features and benefits include:
Comprehensive initial training and ongoing operational support
Internet-based back office support system
Site selection assistance and construction advisement
Approved supply sources and assistance in establishing relationships with vendors
Advertising, marketing, and social media campaigns