BECOME A SENIOR ASSOCIATE / INDEPENDENT DIRECTOR
*EXCLUSIVELY FOR STAFFING AGENCY PROFESSIONALS*
RIM is an established, professional services recruitment agency with offices in the United States and Canada. Our Associates assist clients with their professional permanent, contract and temporary staffing needs and we work with clients across all industry sectors. Our Associates are business partners who will represent the Recruiting in Motion brand with a high degree of professionalism, ethics and integrity. As an Associate, you must have a proven track-record in the recruitment/staffing industry, an entrepreneurial spirit, and an alignment with RIM's Core Values. Associates are chosen through an in-depth interview and selection process.
*Note: Although RIM is a member of the IFA and offers franchise opportunities, this offering is not for a franchise. This offering is for a unique business as detailed herein.
MINIMUM QUALIFICATIONS
To be considered for this unique opportunity, you MUST have prior experience in a staffing/recruiting agency, ideally in a role where your prior responsibilities included business development, account management, or sales.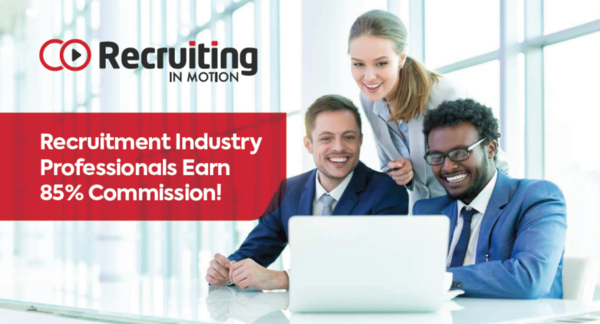 BENEFITS OF JOINING RIM
Earn 85% commissions on direct-hire placement revenue, and temp/contract net margin
Work for yourself, while being part of an established corporate brand and team of like-minded professionals
Full funding, administration, and E-Timesheets for your Temps/Contractors on assignments
Our Peer-to-Peer network of RIM colleagues will be eager to work with you to help fill your open job orders or to provide available candidates
No cost to join, no "desk" fees, no membership fees
No territorial boundaries
Work from your home office, or traditional office; your choice
Access to our extensive training and reference library and online LMS (Learning Management System)
Access to our Applicant Tracking System
Access to our exclusive, proprietary Visual Advantage System: RIM's unique video presentation system that integrates video-clips, resumes, and personal profiles of candidates
Marketing/Promo material
Free website exposure and branding
Dedicated customer service and support
Company credit-checking and candidate background checking (fee may apply)
Forms and templates
Your job postings advertised on the RIM website, Indeed and other popular job-boards, at no cost
Invoicing, commission calculation, tracking and reporting
Bi-weekly commission payouts
Unlimited earning potential and the ability to shape your own destiny
RIM CORE Values
Recruiting in Motion's Core Values are a set of vital and timeless guiding principles for the company and all of its partners, employees, and associates. They define our corporate culture and who we are as people.
We Are Better Together
We Are Relationship Focused
We Always Do The Right Thing
We Listen, Learn And Guide
We Find Humor And Happiness Everyday

We are living in exciting and turbulent times. Due to the pandemic many companies, especially recruitment/staffing agencies, are feeling the need to adapt to the changing times. Fortunately, RIM is well ahead of that curve. When we launched the company over 10 years ago, we realized that evolution was inevitable. The recruitment industry had been stagnant for many years, and the industry was in dire need of innovation and change.
In response, we developed our exclusive "Visual Advantage System". This process combines in-depth candidate interviews and video-capture technology and allows RIM Associates to present a shortlist of candidates to their clients via a secure web-portal. This unique system also streamlines the hiring process for our clients making it easier, faster, less expensive, and more effective than conventional employment agency techniques.
It also provides our RIM Associates the option to meet candidates remotely, and present candidate video-clips to our clients so that they can assess the potential fit of each applicant prior to meeting them in-person. One might say that we were slightly ahead of our time.
Since then, RIM has expanded throughout Canada and the US, and we've been recognized as one of the fastest growing companies in the country for three consecutive years. We've helped thousands of candidates advance their careers, and we have helped our existing RIM office partners achieve their dreams of business ownership and financial freedom.
We are proud that we have built an organization where each of our colleagues knows that they are part of a tenured team of professionals who they can count on to assist with any challenges they may face. One of our core values is "Better Together" and this sense of teamwork emanates throughout the organization.
Recruiting industry professionals want to focus on building relationships with clients and candidates. They don't want to spend their time worrying about how to pay their Temps or Contractors. They would rather not deal with paperwork, office administration, web-site development, legal forms, contracts, or invoicing and collections. They may not have the funds to hire employees or rent expensive office-space.
Well, don't worry, that's where we come in. Our back-office manages all of those areas and more, while our Associates can focus on what they enjoy, while getting paid the commissions that they deserve.
Our network/team includes some of the industries' top performers, and we are growing by attracting entrepreneurs who have similar backgrounds, and who share our beliefs and core values. If you feel you'd be a good fit, we look forward to hearing from you.
Sincerely,
Sean Kogan and Paul Vendittelli