Not your ordinary B2B opportunity: Just Let Me Do It Franchise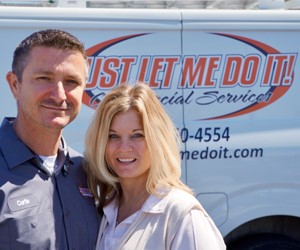 Hello and thank you for your interest in the Just Let Me Do It Franchise Opportunity! We are so excited to extend our family's success to you. We look forward to helping you grow a successful, profitable company, and we hope you enjoy the many opportunities that await Just Let Me Do It franchise owners.
Our Mission: Just Let Me Do It, a commercial handyman service franchise, provides our clients with detailed workmanship, on-time responses and the best customer service in the industry. We are a one-call-does-it-all commercial services provider that goes above and beyond for our clients.
We're looking for like-minded professionals to own and operate Just Let Me Do It franchises in available markets across the United States. If you've got a passion for what we do, we'd love for you to learn more about Just Let Me Do It.
Thank you again and we look forward to meeting you in person to discuss!
— Curtis and Colleen Pyle, Just Let Me Do It Founders
A Little History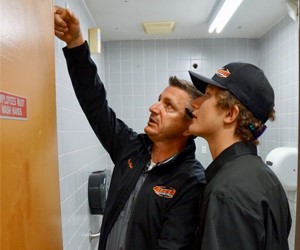 Just Let Me Do It Commercial Services was founded in 1997 by Curtis and Colleen Pyle. While residing in Scottsdale Arizona, Curtis and Colleen knew that they wanted to start their own business and capitalize on the growing need for handyman services in the market.
When they first opened, they envisioned the company being a residential handyman company. However, as they started to build a reputation for themselves, they began receiving calls from retail stores and restaurants. It didn't take them long to realize that they had discovered a strong niche market with a high demand for their services – Just Let Me Do It Commercial Services had found the road to success.
Over the years the, one thing that stood true – even in a bad economy – was that there will always be a need for commercial service and repair work.
Today, Just Let Me Do It maintains corporate locations in Scottsdale, AZ and Charlotte, North Carolina along with nationwide expansion opportunities through franchising.
Why Just Let Me Do It?
A business-to-business franchise (no dealing with homeowners)
Low startup costs
Billing and collection handled for you
No marketing
Backed by 20 years of proven success
Commercial handyman services in high demand across the country
Established, nationally-known client base (Ex: Target, Apple, 7-11, Walmart, Quick Trip, Marshalls, McDonald's, Red Lobster, and many, many mall stores)
Specializing in servicing retail stores and restaurants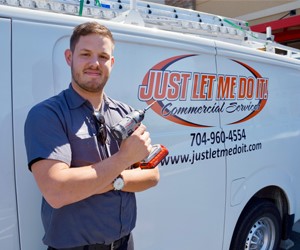 Just let me do it commercial services specializes in maintaining retail stores and restaurants. We work with our clients to ensure that all jobs get completed and closed out in a timely manner. Our computer software helps us to track jobs from start to finish, allowing us to give our clients daily status reports. We self-perform all our jobs and our uniformed technicians are well trained in all the different trades.
Just let me do it is ahead of the game when it comes to customer service and job satisfaction. We believe in always answering the phone and responding to all calls quickly and efficiently. Our clients are important to us and that's why we service their stores 365 days a year. We understand the importance of their stores staying open for business no matter what the issue.
Come, Rain, sleet or snow, Just Let Me Do It is on the go!
Let's just do it.
There's just no reason to look at any other handyman or commercial services franchises. Just Let Me Do It is the best, so let's just do this!