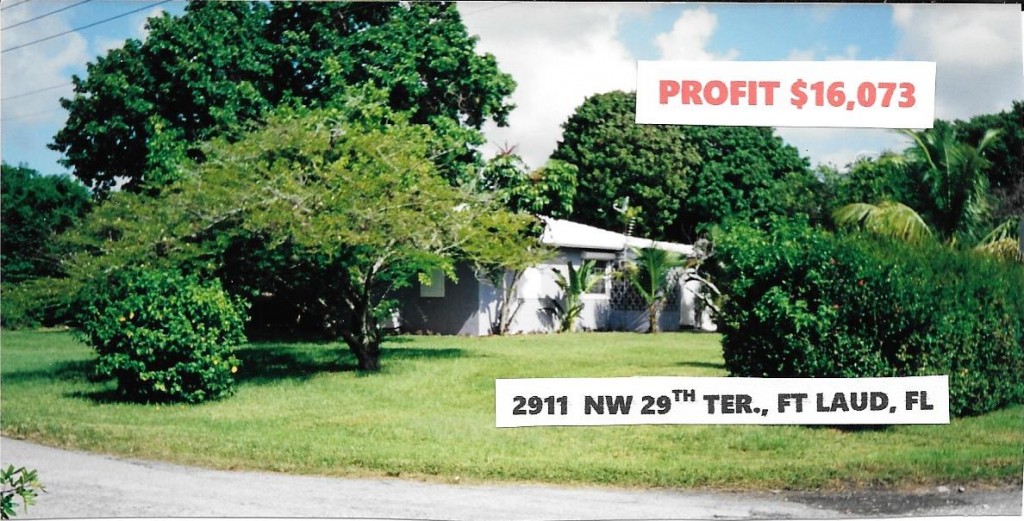 We Have Been Teaching Successful Real Estate Investment Strategies For Over Thirty Years
Not Your Money / Not Your Credit / 100% Flexible
DESCRIPTION: Our clients are making big cash profits in real estate even though most have had no real estate experience. Participate in our personalized one-on-one coaching program taught by experienced coaches who currently continue to execute real estate deals presently.
OPPORTUNITIES: These opportunities are available ANYWHERE in the United States. You will learn how to do real estate deals with anyone, from anywhere, at anytime.
LEARN REAL ESTATE WHILE EXECUTING YOUR FIRST PROFITABLE DEAL UNDER THE GUIDANCE OF YOUR OWN PERSONAL REAL ESTATE COACH WHO WILL WALK YOU THROUGH EACH STEP OF THE PROCESS.
** SET YOUR OWN PROFIT GOALS: Pre-set goals are always important in any business and we gauge your cost of training and coaching according to how much money you want to make within your first twelve months. (See Bottom of Description)
GUARANTEED: We guarantee you will reach your profit goal if you are committed and consistent in your new real estate business and we will work with you until your goal is met.
TRAINING, TOOLS AND RESOURCES PROVIDED: You will need about $4,000 to $12,000 (depending on where you set your first twelve month profit goal) to learn and be trained in the strategies which make it possible for you to consistently buy and sell properties. You will NEVER use a penny of your own money or credit in the deal.
SPECIAL OFFER: We offer a 10% discount on the initial license fee to qualified military veterans.
IN THIS PROGRAM YOU WILL LEARN HOW TO BUY AND SELL PROPERTIES USING ABSOLUTELY NONE OF YOUR OWN MONEY OR CREDIT WHILE MAKING POTENTIALLY BIG CASH PROFITS UP TO $25,000 TO $35,000, OR MORE, EVERY TIME.
YOU WILL EXECUTIVE YOUR FIRST PROFITABLE DEALS WHILE YOU LEARN AND TRAIN UNDER OUR GUIDANCE.

CREATIVE INVESTMENT CONCEPTS (CIC) is one of the most reputable real estate and mentoring/coaching companies available with decades of experience. We offer easily understood programs that produce the most profit for our clients. Even if you have never done real estate before; you will learn how to make money in real estate from the daily and weekly mentoring of successful real estate investors. CIC provides not only personalized one-on-one training, tools, resources and follow-up mentoring, but al shares with you creative and strategic methods to make the most money in the shortest period of time. You are trained by actively doing your own personal PROFITABLE real estate deals, carefully guided through each step by your personal one-on-one coach, without ever using any of your own money or credit.
The first real estate deal using these CIC methods and strategies was closed on March 10, 1987 and produced a cash profit of $10,000. A recently closed deal made a profit of $38,000. CIC is constantly improving methods and systems to make increased profits. You will have unlimited access to your mentor/coach who will be available to you 24/7 by phone or email.
If doing a deal right in your neighborhood or a thousand miles away, CIC will show you how to make money with anyone, located anywhere from your home office computer.

Key benefits of the CIC Profit Program
The program is based on over 30 years of profitable deals.
Even if you are new to real estate, we coach you through entire process to close your own profitable deals.
Traditional real estate terms and practices are used in a special way.
Learn not to use your money and no credit checks.
No two deals are alike so you are coached to handle many scenarios.
Your profit check presented to you by the Title Attorney at closing.
Operate your business full time or part time from anywhere.
** Approximately $4,000 to $12,000 is required to participate in this program (investment level varies on your "profit goals" / Higher Profit Goal = More Mentoring Provided by CIC). Please complete form below and we will contact you to discuss this unique opportunity in more detail.