NEW YORK'S FASTEST GROWING 3rd WAVE COFFEE SHOP & CAFÉ PRIMED FOR EXPANSION ACROSS THE U.S.

AT A GLANCE
Sector: Fast-Casual (emerging coffee shop & cafe opportunity)
Established: 1992
Sales: Sales from $1,485,110 - 2017 gross sales*
Average Size: 500 square feet – 2,000 square feet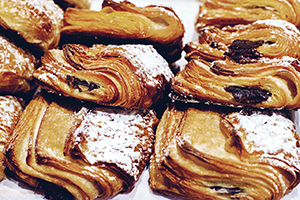 CAFÉ D'AVIGNON FRANCHISE OPPORTUNITY
Café D'Avignon is New York City's premium café serving the highest quality French-style baked goods and specialty 3rd-wave coffee.
Café D'Avignon is simple and natural; they bake and serve everything fresh on the same day – high quality pastries, sandwiches, salads, plus 3rd-wave coffee all at one stop with grab-&-go simplicity.
Baking such elegance into every bite has also created a long list of notable wholesale customers including Whole Foods, Four Seasons, The Plaza, and Dean & Deluca.
With the upcoming opening of their next corporate store in the famed Moxy Hotel and units underdevelopment in Orlando, Café D'Avignon franchising is expanding, and territories are selling fast.
Café D'Avignon Franchise Advantages
Streamlined operations for fresh, high quality baked goods at every location
Prime for inexpensive conversions of tired brands in crowded segments with 3 unique design models ranging from 500-2000 sq.ft.
The modern yet classic store designs can be applied to several real estate opportunities, including airports, office lobbies, large food halls, & brick & mortar store.
Comprehensive training & support systems designed to increase business value & operational efficiency, including an 8-week training program for franchisees of all operations, baking, food prep, hospitality culture, coffee training, etc.
Strong brand reputation to leverage
Uses electric ovens & equipment, no gas, making building & permits much easier.

SEEKING OPPORTUNITIES
Multi-Unit Franchises
Area Development Franchises
IDEAL INVESTOR PARTNER/ FINANCIAL REQUIREMENT
$1 million net worth
$500k liquid capital available to investment
Ready to develop at least a 5-unit territory

*Figures represents the financial performance range of (1) 200 square foot Café D'Avignon restaurant that was in operation continually during fiscal year 2017. Related costs can vary due to several factors. Please refer to our Franchise Disclosure Document for a complete breakdown of costs.
TO FIND OUT MORE ABOUT THIS OPPORTUNITY, PLEASE FILL IN THE FORM BELOW.