The US printing industry is $79.2 billion and the global printing market is set to top $821 billion by 2022
Open an AlphaGraphics franchise and you'll join a system with a long history of success and, one which has a large global presence. For almost five decades, AlphaGraphics has expanded to 250 U.S. locations and 23 international locations. Receive tremendous support and leadership that comes from a management team with a combined 150+ years in franchising and over 175 years in the graphics and printing industry.
About
In today's digital/web-based environment, AlphaGraphics utilizes the latest in technologies in marketing to drive leads to you and your customer's business. You do not need to lease a huge space, purchase and maintain lots of equipment, nor even have multiple employees to handle daily operations. In fact, this pathway is much simpler.
The new AlphaGraphics center offering represents the lowest possible investment with the highest possible return – a winning combination for new business center owners.
Program Details
Our onboarding and business development coaches cover all the bases needed to be successful to start and ongoing as long as you own your franchise:
Equipment Recommendations
Software and Hardware
Workflow Automation/Order Integration
Marketing and Lead Generation Systems
Production Management Software
Business/IT/Communications Systems
Customer Relationship Management Systems
Volume Discounted Pricing with National Vendors
Exterior and Interior Decor Packages
Sales Training and Support
We have covered everything…all we need is you!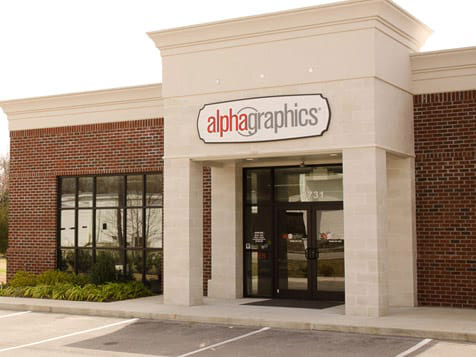 No Print Background Needed
AlphaGraphics franchisees come from all types of business backgrounds. Most of our franchisees have no print or graphics backgrounds at all. The AlphaGraphics' franchise team will walk you through every step of the process from marketing and sales to equipment operation, to staff procurement and development, and more.
The Strongest Unit Economics in the Industry
AlphaGraphics is coming off a record year of many financial metrics including gross sales, average unit sales, and more. Each AlphaGraphics center is independently owned and operated and it's important to realize that your particular business results may vary.
2019 Domestic Network Gross Sales = $278,000,000
Average Annual Gross Sales (single center owners)*= $1,191,632
Median Annual Gross Sales*= $935,538
Median Annual Gross Sales of Top 25%* = $1,877,104
*Please refer to the AlphaGraphics Franchise Disclosure Document for more details.