The Sports Business You Want to Own.
RedLine Athletics "Youth" Athletic Training Centers are focused on enhancing speed, power and core strength along with injury prevention of student athletes ages 8-18. Based on the successful franchise formula developed by John Leonesio, RedLine Athletics has the potential to offer a high rate of return on investment with their signature YOUTH sports training centers.
As an owner you'll benefit from markets with unlimited potential, targeted at the $38 billion fitness industry and the 8-18 year demographic group in the $5 billion youth sports market.
Prime franchise locations are available right now. If you have a PASSION for SPORTS, with a purpose to serve this underserved youth sports market, then you should own a RedLine Athletics Youth Athletic Training Center franchise.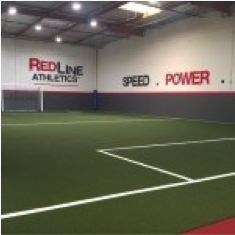 Proven business model:
Based on the successful formula developed by John Leonesio that took Massage Envy from concept to $300 million and The Joint…the Chiropractic Place to more than 400 franchises awarded in 3 years, and successfully took them to an IPO, RedLine Athletics has the potential to offer a high rate of return on investment with their signature sports training facilities.

Technology Based Injury Prevention
Our Certified Strength Conditioning Specialists (all have played at the collegiate and/or professional level) focus on building a strong physical foundation while combing their passion and knowledge to mentor young athletes. Each athlete has a customized designed, sport-specific training program that will help them achieve their goals and maximize their potential. Fusionetics testing is just one of the core differentiators of prehab verses rehab conditioning.
Franchise Opportunity
As a franchisee you'll be trained and provided all the latest training and technology based solutions that make your training center significantly different from local competitors. Some of your service offerings can include:
Baseline performance/health assessments and testing
Customized improvement plans for health, fitness and performance
MAT – Muscle Activation Technique
Team, private and semi-private training, adult boot camps, off-site training, cage rentals, etc.
Flexible membership models
Protected trade area

Outstanding Support - Every Step of the Way
Real Estate: Site selection and help on lease negotiations, protected trade area
Equipment: One contact, one call to us, saves you countless hours
Training: Initial 1 week franchise training, on-site local RD support, ongoing training through our web-based portal, franchise conventions, etc.
Marketing: Access to our library of proprietary marketing materials, unit level microsites to localize your message, social media guidance, etc.
Technology: From a point of sale system to a robust Franchise Support Portal with training, forms, marketing materials, policies, manuals, etc.
Become involved in one of our committees (social media, technology, apparel, etc.)
Franchise Partner
Do you have the management skills and business acumen to be a Franchisee? If so, this is your time to grab the territory of your choice and build your business you can have fun with. These licenses will sell out fast!
As an owner, you'll benefit from:
Markets with unlimited potential: Targeted at the $38 billion fitness industry and the 8-18 year demographic group in the $5 billion youth sports market.
Recurring revenue streams: Memberships, semi-private sessions, private training, group fitness, teams, leagues, gift cards and merchandise.
What It Takes to Prosper as a RedLine Owner
Business-oriented, sports-loving entrepreneurs with strong leadership, and interpersonal skills
Minimum net worth of $300,000 and $100,000 of available liquid capital
Communication and people management skills to effectively work with clients, employees, trainers, vendors and others in the community
The desire and initiative to do local marketing such as calling on schools, sports organizations, and coaches to introduce the RedLine Athletics program
To join the exciting RedLine Athletics team, we are looking for business professionals that are willing to put in the time and energy to help grow RedLine Athletics into the preeminent sports-specific training brand.